"We're really disappointed that people are still coming into the city in these circumstances," Mr Guenther said.
The crowd featured hundreds at its peak, but had thinned out when police decided to move in after several hours of surrounding the protesters and urging them to leave.
Police offered protesters safe passage to leave until about 3pm. At 4.20pm, they surged forward and took a position metres from the increasingly agitated mob. Dozens of people who passed up the offer to leave without incident earlier in the day were led away by police.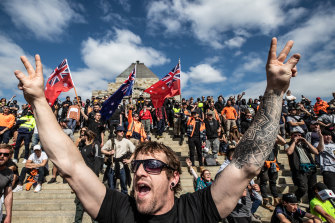 Among the chants of "freedom", "every day" and at one point the chorus of John Farnham's You're the Voice, many were unable to articulate their rationale for attending the protest. Some cited bizarre conspiracy theories and claimed the mainstream media were complicit in concealing information about the COVID-19 vaccine.
"We are living in a police state and a lot of people have been paid off," said a man called Adam, who refused to give his surname. Another man said a group called the "Vanguard" controlled the Australian media, which was refusing to tell the true story behind the protest.
On Tuesday, several thousand people – including many far-right activists – rampaged across the city and onto the West Gate Bridge, resulting in several violent scenes.
On Wednesday morning, police pursued several small and seemingly disorganised groups of protesters, who marched along several CBD streets including Elizabeth, Flinders and Queen streets, blocking traffic as they walked.
A handful of arrests were made as members of Victoria Police's public order response and critical incident response teams converged on the city in a show of force, stopping people who attempted to enter the CBD and checking their identification.
By early afternoon, protesters were growing in numbers near the Melbourne headquarters of the CFMEU, north of the Queen Victoria Market, where there was also a large police presence.
The construction union's office windows have been boarded over after protesters, enraged by the state government mandating of COVID-19 vaccination for those employed in the building sector, gathered there on Monday, throwing projectiles including bottles.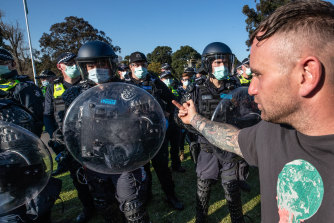 Victorian construction union leader John Setka said any CFMEU members found to have participated in violent protests would be expelled from the union.
"Let me tell you, people that were involved in the violent protest, they may as well go pick fruit in Mildura somewhere because they will not be working in our industry," he told ABC radio.
Government and opposition MPs also condemned the protests.
Premier Daniel Andrews said on Wednesday morning Victoria Police would "take action against those who did the wrong thing yesterday".
"They're not there to protest; they're there for a fight."
Mr Andrews said that despite a few thousand people choosing to protest, about 90,000 people got vaccinated on Tuesday.
"That's the more important number. They know that the way out of this is not violence, it's vaccination," he said.
The Andrews government has shut the state's construction industry for two weeks, blaming low COVID-safe compliance at building sites. There are more than 330 active cases linked to the sector.
Shadow Attorney-General Tim Smith said Wednesday's protest at the Shrine was "an insult to the more than 100,000 Australians who had died in the defence of our country and its values in all wars".
Federal Assistant Attorney-General Amanda Stoker condemned the violence but said she understood people who were desperate to get everyday freedoms back.
She claimed Labor MPs had been willing to condemn the worst of the protesters' behaviour, when some had been perpetrated by CFMEU members.
Aboriginal healthcare worker Vivian Malo has followed the protesters around for the past two days. Dismayed at their actions, she regularly shouted at the crowd, calling them losers and telling them to go home.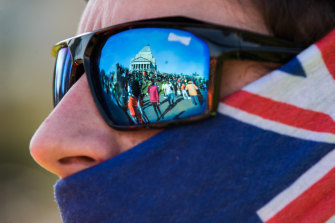 "They are getting into the minds of people with true concerns. It's disturbing," she said."I don't believe it's a true representation of CFMEU."
Prime Minister Scott Morrison criticised the protests from Washington, DC.
Loading
"None of us are above the law," Mr Morrison said.
The Civil Aviation Safety Authority on Wednesday imposed a five-day restriction on aircraft flying above the inner-city at the request of Victoria Police, in a move that will force media to delay aerial coverage of protests for an hour.
Additional reporting by Annika Smethurst, Simone Fox Koob, Michael Fowler and Nick Bonyhady
The Morning Edition newsletter is our guide to the day's most important and interesting stories, analysis and insights. Sign up here.