Queensland teachers and childcare workers could be the next group forced to get a COVID-19 jab, while up to one in three police officers are yet to be vaccinated despite a mandatory deadline in just 12 days.
Queensland Health has mandated the vaccine for all clinical and non-clinical staff working in locations where care is provided to patients with a September 30 deadline for a first dose and the end of October for a second dose.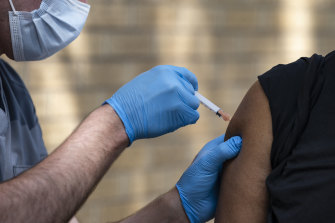 Police officers and staff must have received their first dose by October 4 and both doses by January 23 next year.
Education Minister Grace Grace has also not ruled out extending mandatory COVID vaccinations to teachers and childcare workers.
Queensland Teachers' Union president Cresta Richardson said the union did not oppose mandatory vaccinations but did not think employers should mandate vaccinations unless it was required by law.
Since August 8, more than 42,000 school and early childhood staff have used the 1b classification to receive a vaccination, with almost 12,000 getting their second dose.
That excludes workers who received their shot before the 1b announcement, went to a GP or pharmacy or accessed a walk-in hub.
Brisbane Times can also reveal about 67 per cent of staff at the Queensland Police Service has received a first dose, despite a mandatory deadline for first doses being under two weeks away.
A police spokesman said the statistic relied on officers and staff self-reporting, so it was likely the vaccination rate was "considerably higher".